Michael_Novakhov
shared this story
from 1. US Security from Michael_Novakhov (88 sites).
---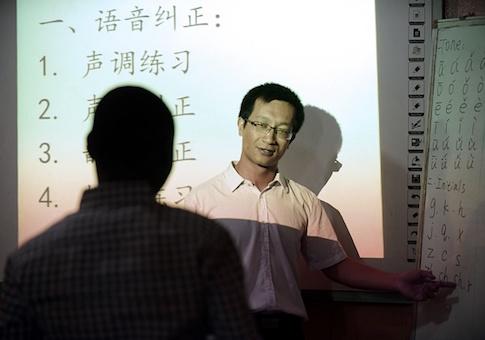 The Trump administration on Thursday designated one of China's central propaganda hubs in the United States as a Communist Party outpost, a move meant to limit its influence and crack down on the spread of Chinese disinformation on America's college campuses.
The Confucius Institute U.S. Center (CIUS) will now be treated as an official mission of the People's Republic of China. For years, the CIUS has run a network of Chinese language learning centers that have spread Communist propaganda in U.S. classrooms, ranging from kindergarten to college. The decision follows a years-long pressure campaign from anti-China activists and hawks in Congress who view the Confucius Institutes as a tool for Beijing's influence operations in America.
Recent Stories in National Security
The designation is meant to recognize "CIUS for what it is: An entity advancing Beijing's global propaganda and malign influence campaign on U.S. campuses and K-12 classrooms," Secretary of State Mike Pompeo said in a statement announcing the decision. "Confucius Institutes are funded by the PRC and part of the Chinese Communist Party's global influence and propaganda apparatus."
The crackdown on these Confucius Institutes is one of several recent actions taken by the Trump administration to combat Chinese influence and espionage operations. It follows on the heels of a Trump administration order last month shuttering a CCP consulate office in Houston, which U.S. officials say was used as a hub for China's theft of American intellectual property and medical data.
Pompeo said American universities should take a hard look at the Confucius Institutes operating on their campuses. Universities will have to decide if they are comfortable permitting their students to be indoctrinated with Communist propaganda.
While the CIUS will not be shuttered, it will now be held to a higher public reporting standard. The designation is similar to recent orders mandating that Chinese media companies register as agents of the PRC.
The State Department will gain a greater understanding of how the Confucius Institutes are used to advance Beijing's foreign policy objectives, according to U.S. officials. CIUS will be required to provide the government with information about its personnel and real estate holdings. It will also need permission to acquire any new properties in the United States.
CIUS will also provide information about its funding and the operation of Confucius Institutes across the country, including educational curriculums and training materials.
The post Trump Admin Designates Chinese Confucius Institute as Communist Outpost appeared first on Washington Free Beacon.
Washington Free Beacon
Michael Novakhov – SharedNewsLinks℠
CoronaVirus News Review In Brief